จอยเกมขับเครื่องบิน Thrustmaster TCA Officer Pack Airbus Edition
| | |
| --- | --- |
| ราคา | 7,990.00 ฿ |
| จำนวนที่จะซื้อ | |
| ราคารวม | 7,990.00 ฿ |
Thrustmaster TCA Officer Pack Airbus Edition

Inspired by the world of civil aviation, for multiple possibilities
Thrust reverser function for total realism when piloting commercial airliners and civil aircraft
Thrust levers can be adapted to any style of aviation, thanks to mechanical selectors that let you disable the detents
Tensioning screw (accessible via the underside of the throttle quadrant): adjust the resistance according to your preferences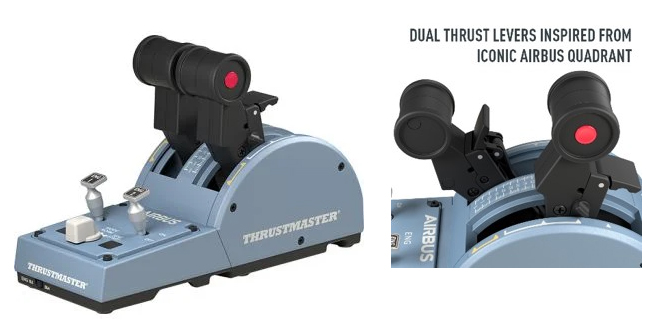 Fly with greater levels of realism and immersion
Exclusive precision, thanks to H.E.A.R.T (HallEffect AccuRate Technology) magnetic sensors:
Surgical precision (i.e. 14-bit resolution: 16,384 x 16,384 values!) for the pitch axis and roll axis
Magnetic technology ensures excellent precision that won't decrease over time
Ergonomic replica of the Airbus throttle quadrant, for completely realistic takeoffs and landings:
Thrust levers similar to those found on Airbus aircraft, with thrust reverser mechanism
Realistic detents: "Idle" / "Climb" / "Flex" / "TO/GA"
Two "Engine Master" selector switches
Eight physical action buttons + eight virtual buttons on each axis for the thrust levers (sixteen in total)

Incredible upgradability
Throttle quadrant includes connectors for upcoming add-ons in the Thrustmaster TCA ecosystem (sold separately)
Two throttle quadrants can be linked together (additional throttle quadrant sold separately), giving you access to four thrust levers instead of two!
Ready to be mounted in your own cockpit: two M6 screw threads make mounting quick and easy
Six rubber pads for perfect stability on a desk or table
Thrust levers with two axes + connector for Thrustmaster T.Flight Rudder Pedals (sold separately)

Compatible with T.A.R.G.E.T software
Thrustmaster Advanced pRogramming Graphical EdiTor software: load or create specific mapping presets for each aircraft, to extend or save all of your favorite settings
Native integration in Microsoft Flight Simulator 2020
Plug and play: the device is automatically recognized in the game
Thrustmaster flight product ecosystem compatibility
Compatible with PC (Windows® 10, 8)
Compatible with the following rudder controllers (sold separately): Thrustmaster T.Flight Rudder Pedals (TFRP) and Thrustmaster Pendular Rudder (TPR)
Compatible with the TM Flying Clamp